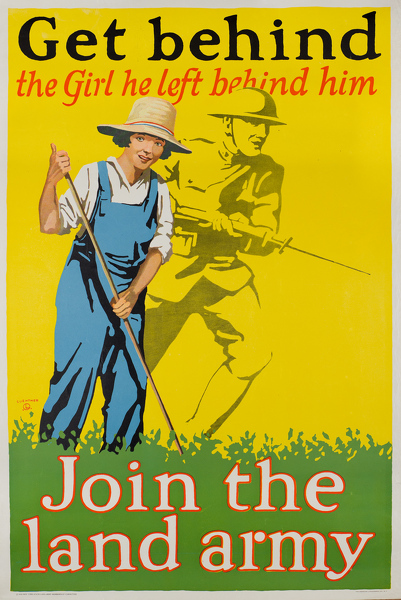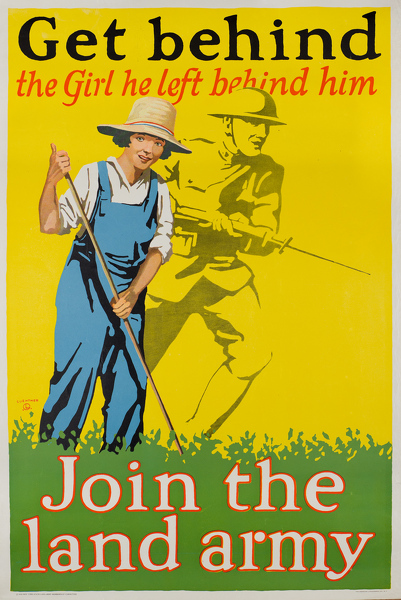 Hover over the painting to magnify (there may be an initial delay while the magnified image is loaded)
Lambert Guenther (b. 1883):
Get behind the girl he left behind him Join the land army. circa 1918
Framed (ref: 5990)
Signed in the plate,
Lithograph printed by The American Lithographic Co.
Copyright by New York State Land Army Membership Committee.
30 x 20 in. (76.2 x 50.8 cm)
See all works by Lambert Guenther lithograph plate print war women work No Mans Land WW-1 Paintings Commemorating World War I
Provenance: Private Collection
The Woman's Land Army of America (WLAA) - which was modeled on the British Women's Land Army - operated from 1917 to 1921, employing 15,000 - 20,000 women. Many were from towns and cities and college educated, and units were associated with colleges. Women who worked for the WLAA were sometimes known as farmerettes. The WLAA was supported by Progressives like Theodore Roosevelt, and was associated with the suffrage movement. In Britain where there was a shortage of farm labour as men were conscripted into the forces and also a need to grow more food due to the threat to supplies caused by German submarines the Women's Land Army (established in February 1917) boasted over 113,000 members by 1918.
America alone produced about 2,500 poster designs and approximately 20 million posters - nearly 1 for every 4 citizens - in little more than 2 years