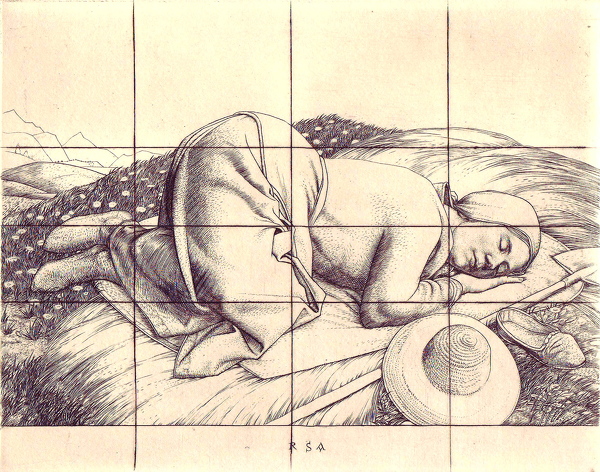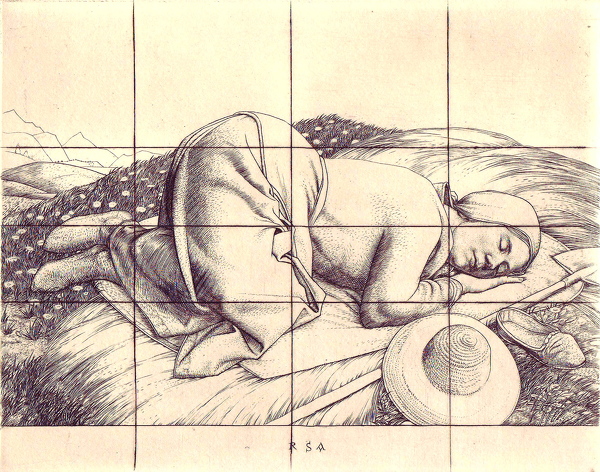 Hover over the painting to magnify (there may be an initial delay while the magnified image is loaded)
Robert Austin (1895-1973):
Woman sleeping, 1931
Unmounted (ref: 3005)

Line engraving,
Plate: 6 x 7 1/2 in. (15.3 x 19.3 cm.), Print: 9 1/2 x 10 1/4 in. (24 x 26 cm.)
See all works by Robert Austin engraving plate print landscape leisure life drawing night scenes and sleep portraits women
Provenance: Private Collection
From a posthumous edition of 3 printed by David Maes in 2009

Austin won the Rome Scholarship for engraving in 1923 and spent 3 remarkable years in Rome before teaching engraving at the Royal College of Art, 1927-44, becoming Professor in the Department of Graphic Design, 1948-55. Austin was a meticulous craftsman-engraver and a vigorous draughtsman, as his series of drawings of Women's Auxiliary Air Force and ballooning activities done during World War II shows. The Tate Gallery holds his work.

The Ashmolean Museum, Oxford, organised an exhibition of his work in 1980.

More recently he was the subject of two shows at the Fine Art Society plc (2001 and 2002), the latter organized organised in conjunction with Liss Fine Art Ltd, and a show at The Royal Academy of Arts in 2009; (he was elected a Royal Academician in 1949).